AMAZON PRIME DAY PICKS + WHY I DON'T RECOMMEND GELS FROM AMAZON!
Amazon Prime BIG DEAL Days is here!!! It's hard to predict what will be on sale, but I wanted to share a round up of all of my favorite things that I use and love from Amazon. 
Pretty much everything I use for my nail prep is from Amazon and it's so good! I've tried things from other places but I always keep coming back to my trusty Amazon faves :) Let's get into the round up! 
FYI - Everything can be found on my Amazon Store Front or my Like To Know It! I made a bunch of different LTK boards which I'm going to link to for organization purposes. Once the link opens, you can click on the individual items and it will take you directly to Amazon to shop! 
NAIL PREP:
 These are all of the items I use literally every time I do my nails! I even use them on clients. They're the BEST!! Honorable mention to my beloved e-file + bits, and my favorite/the best ergonomic cuticle pusher ever!!
If you want to see how I use these products in action, you need to check out my Dry Manicure Prep Course!! Click HERE to learn more! 
Or check out my E-File Basics Course to learn everything you need to know about how to use an e-file for fills and manicure prep!!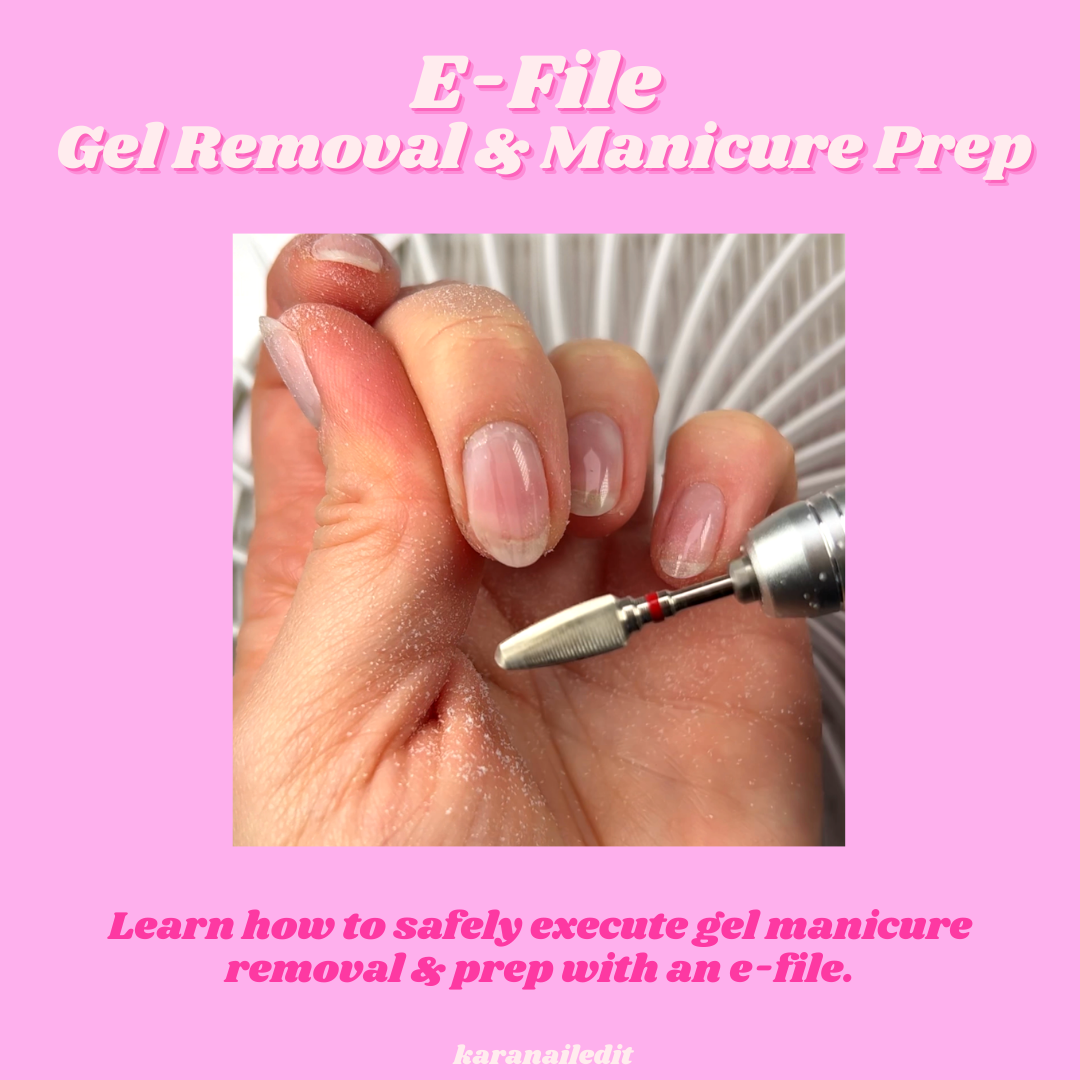 A QUICK NOTE ON GEL POLISH FROM AMAZON:
I know alot of people are interested in starting their own gel journey at home, but not sure if they want to invest much in products, but I think a major part of gel not lasting/wearing well is all about the gel you're using! As you know, I'm not a big fan of random gel brands from amazon for a few reasons.
I have heard from a bunch of people that their gel doesn't last and I ask what gel they're using and it's a brand from amazon that just doesn't seem reliable. When you buy a bottle of gel from amazon, you aren't necessarily buying it from a reputable brand which means the quality might not be that great. In addition to the quality, the ingredients might contain HEMA or other allergens that can lead to gel allergies, dermatitis, or other discomfort which we never want!! Gel polish also stays on your nails for an extended period of time, that's why I really value buying gel from brands who I trust and feel comfortable using. More on that below!
Not all gel / acrylic is right for everyone! I have a blog post all about this topic that explains why this is, and how to know which nail product would work best for your nail type. Make sure to read it here if you're curious about learning more! 
If you really want to have a positive experience with gel, I HIGHLY recommend getting some Kokoist products and testing out the process with the best quality gel you can get, IMO :) It's available without a license, so DIYers can buy it too! 
I'm a broken record here but I love using Kokoist products. They're pretty much all I use because they're high quality, pure Japanese gel, they are made with "better for you" ingredients (they're 9-free), I've never developed any allergies from them, and the longevity/wear is just amazing! 
NAIL ART:
These are my favorite nail art tools! I recently got my airbrush machine and used it the other day. It was so much fun and looks amazingggg!!
Ps - I used Overcast, Venice Beach, Isla Vista, and Enigma from the Kokoist x NT color gel line for this look!
CONTENT CREATION:
My favorite items for creating videos for my nails! The iphone stand is the best one I've ever used!! 
HOME:
Ok you know I've been doing a bunch of major updates in my house, and some of the best things for my makeovers have come from amazon! I especially love the rug and curtains here! Also - these are THE BEST LEGGINGS EVER!!! And biker shorts. I literally wear them every day. They're lululemon align dupes, soooo soft and so so comfy. 
BOOKS:
My favorite 5 star recent reads -- perfect for the summer! Plus my favorite cookbooks that I use allll the time!